Announcements
. Most notably, got sold research from Ginny who got it from Helmut. Added it into the notes section. Also created an online version of
Ginny Zender's Album
, and link to it. Also added a few pictures from the library that my Mom found regarding the drowning death of Lambert Zender.
 for Donahoe and Zender, including deaths of John and Jim (Jays sons), Patrick Quentin Donahoe, Bridget Donahoe, Michael Zender, and a few others
that Ginny Zender came into possession of via John Zender seemingly (she implied that, but didn't explicitly say it).
 and also updated the Zender tree to be a much higher resolution image.Most of the new Ingenues pics came from Patricia Hartman (thanks!)
based on input from Patricia Hartman, a descendant of Edward James Donahoe. And all in that section of the tree.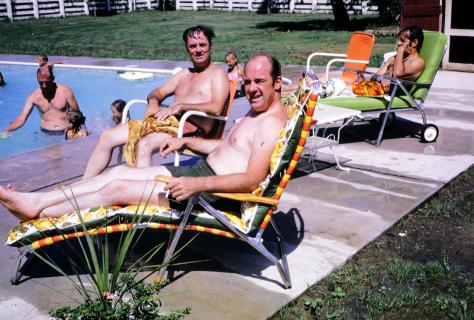 found by his daughter Ronna after her father Patrick Q. Donahoe's recent passing. These pictures are of all 5 Donahoe brothers out at Jay's farm for a family reunion of sorts. the pictures can be seen
here
.
Patrick Q. Donahoe, 86, of Lake Geneva, WI, formerly of Chicago, IL, died Sunday July 2, 2017 at Village Glen in Lake Geneva.  Patrick Quentin Donahoe was born in Chicago, IL on October 31, 1930 the son of the late John and Loucille (Zender) Donahoe.  Following graduation from high school he attended Saint Joseph's College in Renssalear, Indiana.  He had worked for many years as a trader with the Chicago Board of Trade.  He enjoyed travel and working in his flower garden.  He was an avid train enthusiast, enjoying riding trains and collecting model trains.  He was a strong family man focused on keeping his family together.
Patrick is survived by: 4 children; Gregory Donahoe of Lake Geneva, WI, Bradley (Sheila) Donahoe of Dundee, OR, Ronna (Edward) Brennan of Burlington, WI and Colleen (Brandon) Leonard of Sandy, UT, 9 grandchildren, 1 great-grandchild and a brother William J. Donahoe of Gurnee, IL.  He was preceded in death by his parents and 3 brothers; John, Lambert, and Richard.
Mass of Christian Burial will be held at 11:00 a.m. Monday July 10 at Saint Francis deSales Catholic Church in Lake Geneva; Father Mark Danczyk will officiate.  Visitation will be Sunday from 4:00 p.m. until 6:00 p.m. in the chapel of Derrick Funeral Home and Cremation Services.
In lieu of other expressions of sympathy memorials are requested in Patrick's name to: the Walk  to End Alzheimer's in Lake Geneva. A link has been provided below for your convenience.  
Walk to End Alzheimer's
620 South 76th Street, Suite 160, Milwaukee WI 53124
Tel: 1-414-479-8800
on 1/14/2017. Obituary--> Bridget D. Moscatello (Donahoe), 53, of Glen Ellyn, passed away January 14, 2017. 
Loving mother of Matthew and Zachary Moscatello; beloved of John Moscatello;
dear daughter of Liz (the late Bert) Donahoe; fond sister of Brian (Debbie) and Patrick
(Jessica) Donahoe; proud aunt of Katie, Danny, Tommy, Annabel, Dillon, Shannah, 
Danielle, Nicholas, William and Nick. Visitation Wednesday from 4 to 9 p.m. at 
Williams-Kampp Funeral Home 430 E. Roosevelt Rd. Wheaton, IL 60187. 
Funeral prayers Thursday 9:15 a.m. at the funeral home proceeding to 10 a.m. 
Mass at St. James the Apostle 480 S. Park Blvd. Glen Ellyn, IL 60137.
Services conclude at the church. Donations appreciated to the Ada F. 
Addington Hospice Care Center at Rush University Health Center 710 South 
Paulina Street, Chicago, IL 60612. Info @ www.williams-kampp.com
or (630) 668-0016.
See her
memorial album
. Despite significant treatment, she died from complications of breast cancer (it spread to her liver and lungs)
on April 19, 2015. 
Helen J. McKerr, 86, longtime resident of Glenview, passed away April 29, 2015. She was the daughter of Helen Seng-Kane, and the grand daughter of Adam Zender.  Beloved wife of the late John Francis; loving mother of John F. (Meg), Joanne M. Trimble and James J.(Marianne); cherished grandmother of John Francis III (Shannon) and Michael Logan McKerr, Samantha and Steven Robert Trimble, and Kelly Frances and Jack Joseph McKerr; dearest sister of James V. (the late Betty) Seng and the late James J. (Jean) Kane; fond aunt of many nieces and nephews.
A Memorial Mass will be held Monday, May 4th, 10:00 a.m. at Our Lady of Perpetual Help Church, 1775 Grove St., Glenview. Interment private.